Biography of Dave Wodelet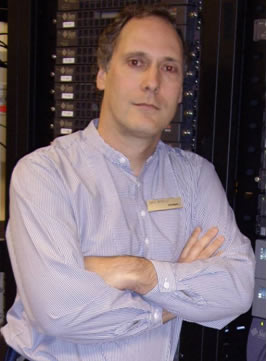 Dave Wodelet is the Director of IP Network Engineering for Shaw Communications. Shaw is a diversified Canadian communications company whose core business is providing broadband cable television, High-Speed Internet, Digital Phone, Satellite Direct-to-Home and Telecommunications services throughout Canada and the US.
Dave has over 27 years of experience in the Industry.  He holds a number of Bachelor and Master Degrees in such diverse fields as Computing, Education and Genetics and has published papers on Computerized Management Systems and Genetic Insect Control.  He taught at both the public and university levels and has been frequently asked to give talks and keynote presentations throughout the Industry.  Dave has presented to international audiences ranging from a few hundred to web-casts viewed by thousands worldwide.  He's been asked to present for such notable organizations as Cisco, PAIX, Equinix, NANOG, ARIN, ISPCON, OFC/NFOEC, Big Pipe, Switch & Data, the Global Peering Forum and the CRTC (Canadian Radio-television and Telecommunications Commission).
Dave has been a pioneer in his field.  He was the first in Alberta to build a Wide Area Educational Network and the first to extend Internet to the educational school system.  He was the first in Canada to do Broadband Data-over-Cable trails with Shaw and went on to create their first Broadband Internet service offering.  He was the first in Canada to deploy a national high-speed 10 Gigabit Internet backbone and the first of the North American MSOs to extend peering into Europe.
Dave was a founding member of ARIN (American Registry for Internet Numbers) and has played a central role in the development of many of the early ARIN policies pertaining to MSOs & broadband allocations.  He served as the Cable MSO representative for many years.  Dave, as an active ARIN member and supporter, was responsible for sponsorship of a number of ARIN meetings and hosted ARIN's first international meeting outside of the USA.
Dave is a strong supporter and advocate of open Internet and Industry standards.  His work on getting vendors to support open GBIC/SFP standards has resulted in enhanced equipment interoperability as well as billions in savings world-wide for the telecommunications industry.
Dave was appointed to the ICANN Board by the Address Support Organization in May 2006.  His three year term will end six months after the conclusion of ICANN's annual meeting in 2009.